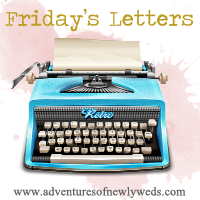 Dear God...
I can not begin to thank you enough for the incredible blessings that you continuously give to us. I am trying my best to not take this life for granted! I know you've heard my unspoken prayers this week.
Dear Mini Vacation...
yay, you're finally here! In T-Minus 3 hours we will be headed to TN!
Dear TN
...please be as great as I've imagined you in my head.
Dear Self
...you rocked those workouts this week, way to go.
Dear People That Shorten Words...
please don't try to have a conversation with me. "Cray" and "Ridic" are not in my vocabulary. Sorry to sound like such a complete word snob.
Dear Neighbors From Last Week...
Apparently,you don't read my blog. Again, it's not breaking news, people steal, and usually they steal stupid stuff. I should knock on your door and tell you. Close your garage door!!!
Dear Jordan...
only one visit with the spanking spoon this week, things are starting to look up!
Have a great weekend ladies! Don't forget to link up with Ashley!