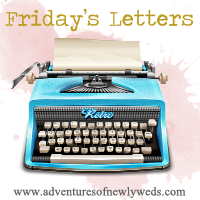 Dear Swim Lessons
...see ya when Jordan turns 4!
Dear 50 Cent
...you totally took me back to my college days this morning on my run.
Dear Gianna
..."Go go go go go shawty...it's your birthday (on Monday), we're gonna party like it's your birthday, we're gonna sip Bacardi (wine and diet coke-btw, I still think that's weird) like it's your birthday...! Happy Birthday!
Dear Tasha
...I am beyond excited for our sushi dinner date tonight.
Dear Ashish
...it's been too long since we've had a date night.
Dear Girl's Night
...sorry that I have to miss out this time. Hopefully I will be on a date with my hubby! Do the Cupid Shuffle for me, please!
Dear Jamaica
...sorry but Cancun offered us a better deal on our vacation. Maybe we'll see you again sometime next year. Let the countdown begin!
Dear Kai
...please don't make me hop on the first thing smokin' out of Atlanta to come see you. All this medical stuff is making me crazy. I think it's time you pack up and move here. I can take better care of you. LOL! If only...
Dear
Mama Laughlin
...you're the reason why I'm busting my butt running in the mornings. You and I have a love/hate relationship too. It's more love than hate, but there is definitely some hate in there!
Dear God
...THANK YOU!