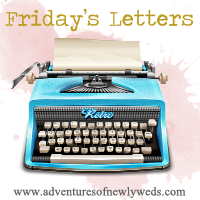 Dear Blog...
this is your 100th post. Happy 100th Post Day!
Dear Rain...
we get the point! My poor flowers are drowning outside right now.
Dear Hubby...
you are the most unhealthy fit person that I know. The fact that you can run incredibly long distances without breaking a sweat is unnerving. Sometimes life just isn't fair. Let's hope that Jordan takes after his daddy!
Dear God...
thank you for putting us in a position to help others.
Dear Dad...
I'm so glad that you love your new pick-up truck but can we please talk about something else now?!?
Dear
Faith
...
I hope you get to feeling better soon. No posts, no cute pictures on Instagram, this is unacceptable. Tell those germs to leave you the heck alone!
Dear Jordan...
you are offically 3.5! I've been telling people that you're 3.5 for at least 4 months now. Oops! I guess it doesn't help that they think you're 5 (what the heck). You can thank your G-Pa for your height cause you sure didn't get it from your "mama!"
Have a great weekend ladies! Don't forget to link up with Ashley!