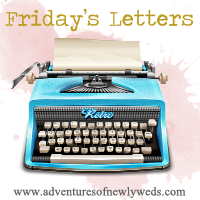 Dear Kendall...
welcome to the world! You will love your big brother and sister, they are awesome kids!
Dear Friday...
I have another busy weekend, how does this keep happening?!?
Dear Cancun...
2 weeks!
Dear Scale...
that 1lb weight GAIN was not cool. I blame it on Jillian Michaels and all the muscle that I'm gaining from letting her kick my butt everyday.
Dear Weather...
it's so nice of you to cool down earlier than late September this year! I am enjoying my runs at 64 degrees.
Dear Friend...
the fact that you continue to make plans with me, only to cancel, is starting to get annoying. Stop it.
Dear God...
thank you for every day but especially days like yesterday.
Dear Oreo...
your double dipped candy bars that are only 100 calories have made my week. My waist line approves!
Dear God...
I had to give you two shout outs this week. Some big decisions are going to be made for the Patels. I know you hear our prayers, both silent and spoken.
Have a great weekend ladies!